2021 Exploration Program
The 2021 program focussed on using a combination of mapping, sampling and airborne and ground geophysical surveys to locate auriferous leakage halos from buried hydrothermal centres in outcrop on which to focus our maiden drilling program. The program has successfully located a number of mineralized re-activated structural zones within the Botwood Sediments.
Highlights:
Completed 6865 metres of diamond drilling in 24 holes
Intersected multiple wide zones of shearing and brecciation with quartz veining, mainly in Lawrenceton volcanics
These zones typically exhibit a pyrite-arsenopyrite-stibnite mineral assemblage
Pyrite and arsenopyrite (1 – 3% total sulphide) are commonly associated with gold mineralization, specifically in all samples greater than 50 ppb gold
Sericite, silica, carbonate (including ankerite), and chlorite alteration are observed in the mineralized zones, typically as pervasive haloes around quartz stockwork and quartz veins
Extensive soil sampling (>3000 samples) discovered multiple new targets.
Trenching uncovered two new mineralized zones (Deliverance and Moonlight).
2 Induced Polarization surveys (51.5 line-km) completed to better define drill targets.
JUMPER'S POND ZONE
Eighteen of the diamond drill holes (5,647 meters) were completed in the Jumper's Pond zone.
Jumper's Pond Highlights:
The mineralized zone intersected in JP21-012 has been extended approximately 100m along strike to the north,
The mineralization is interpreted to occur along the axis of an anticlinal structure, in the footwall of a major fault zone and remains open along strike and at depth,
The mineralized intervals in four of the drill holes are open and additional sampling is required to determine the full extent of the gold mineralization,
Higher grade samples include 5.09 g/t over 0.30m and 5.58g/t over 0.50m in JP21-022 and 4.48g/t over 0.30m in JP21-019,
The mineralization exhibits a strong spatial correlation to a positive chargeability anomaly,
The mineralization is characterized by a quartz-pyrite-arsenopyrite-stibnite mineral association
JP21-022 intersected twelve intervals of gold mineralization including 65.1 meters averaging 0.78 g/t Au, from 98.5 to 163.6 m downhole.
Included in JP21-022 were intersections of 52.4 m averaging 0.93 g/t Au (98.5 to 150.9m), 5.7 m averaging 2.37 g/t Au (98.5 – 104.2 m), 18.85 m averaging 1.22 g/t Au (121.3 – 140.15m) and 1.70 m averaging 3.17 g/t Au (129.3 – 131.0 m).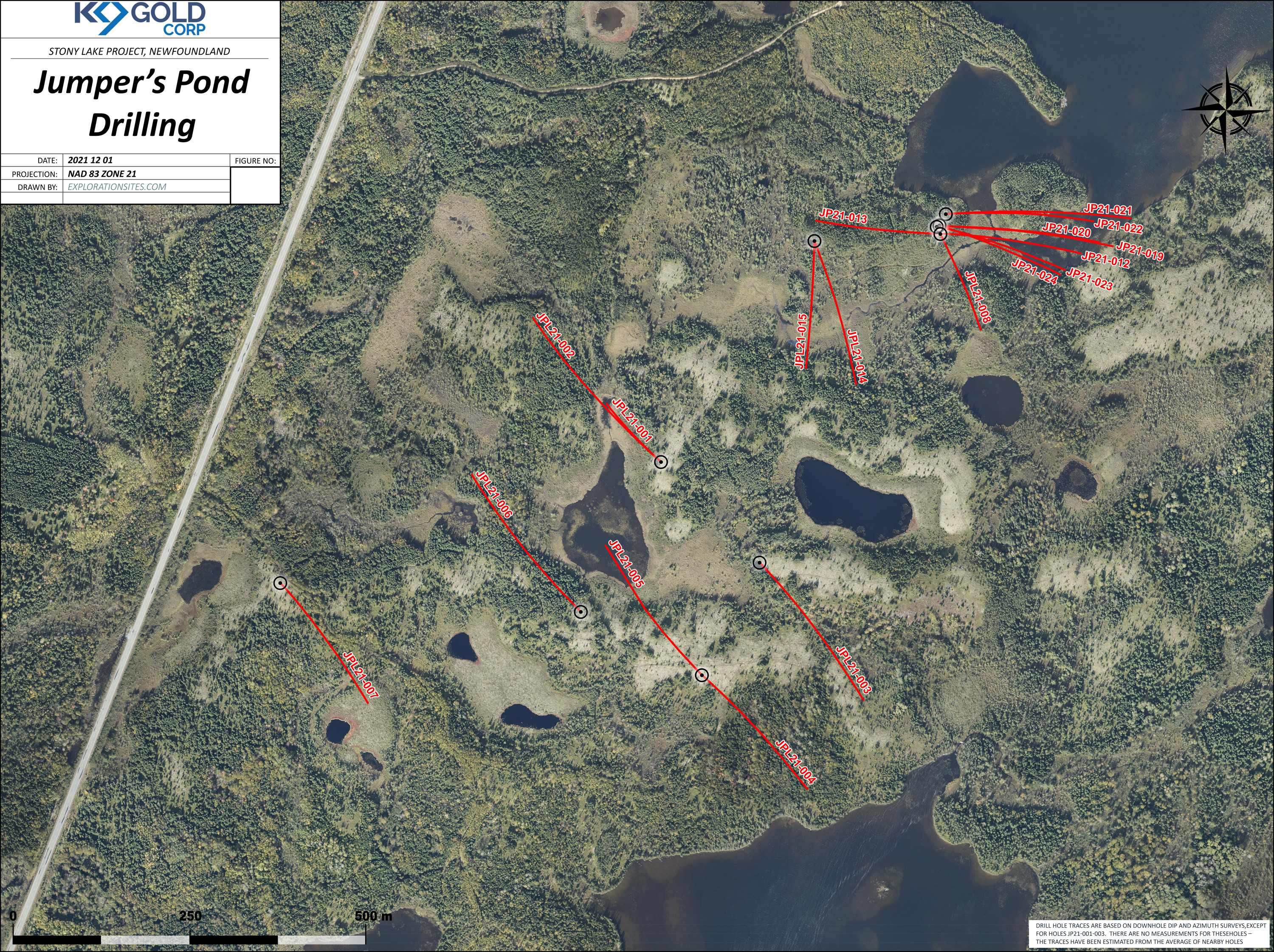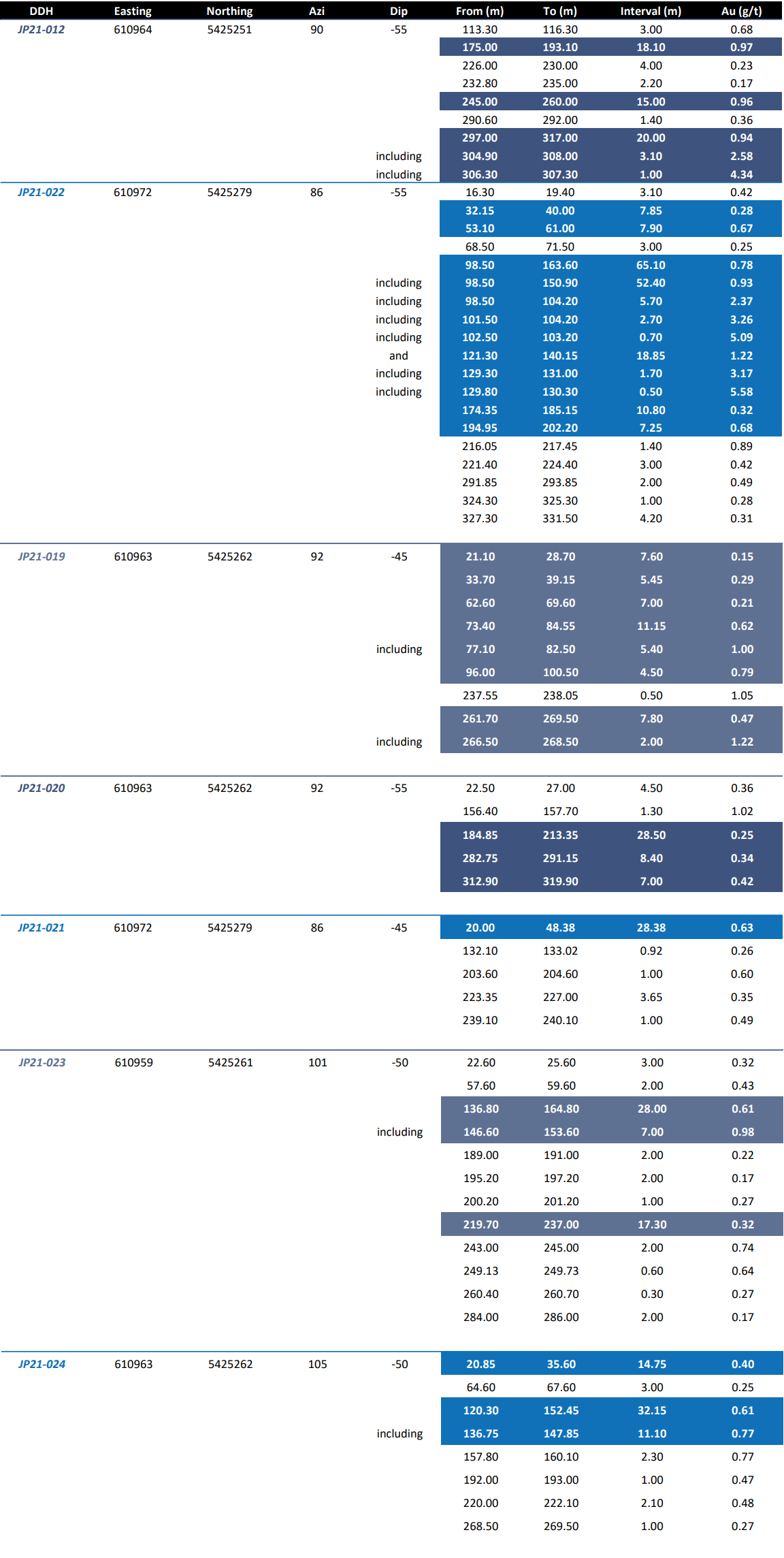 Note: the above core intervals do not represent true thickness. Numbers are rounded.
MOONLIGHT ZONE
The moonlight zone is located approximately 14 km SW of Jumper's Pond, along the same Cape Ray – Valentine Lake structural trend. There are multiple geophysical and geochemical anomalies in the area. Recent drilling included three holes (660 m), one of which intersected 9.52 m averaging 0.84 g/t Au (drillhole ML21-016).
Moonlight Highlights:
Drill hole ML21-016 intersected 9.52 metres averaging 0.84 g/t Au, from 163.0 to 172.52 m downhole, including 2.0 m averaging 2.18 g/t Au from 163.0 to 165.0 m downhole.
The gold mineralization occurs in a quartz stockwork (quartz-pyrite-arsenopyrite mineral association) hosted in altered volcanic flows like the recently discovered gold mineralization at Jumpers Pond.
The gold mineralization in ML21-016 is located approximately 200 m west of a channel samples of the B horizon soil material that averaged 0.81 g/t Au over a width of 15 m (see company release December 2, 2021).
Float and subcrop samples in the immediate area range from 50 ppb to 3.2 g/t Au and are concentrated along a 2.2 km interpreted structure that extends through ML21-016 NW-SE
Compilation of results indicates widespread gold mineralization over an area measuring 1700m by 1500m and several high-quality drilling targets.
In addition, the gold mineralization exhibits a spatial association with a NE trending weak-moderate chargeability signature with a corresponding highly conductive zone, which is at least 3 km in length.
The area of geochemical anomalies includes a parallel trending chargeability high which lies approximately 1 km NW of the chargeability low and corresponds with a major break in the magnetic signature.
The whole area appears to coincide with an inflexion point on the regional-scale Cape Ray – Valentine Lake structure.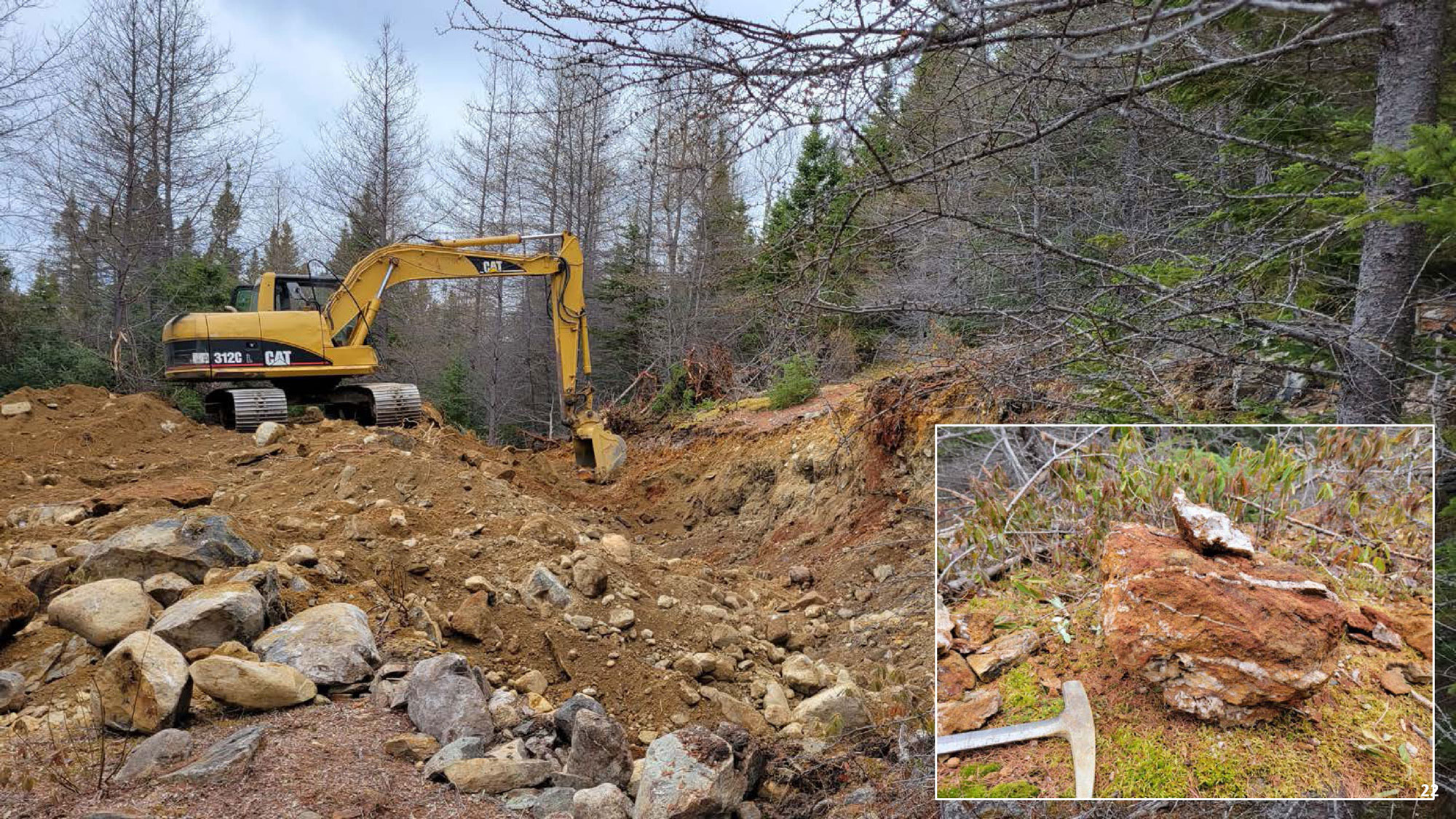 DELIVERANCE ZONE
At the Deliverance zone, in the centre of the property approximately 15 km SW of Jumper's Pond, a 10m wide zone of moderate to intense oxidation was uncovered. Within the 10m zone, there is one major vein system with several parallel minor veins. Where exposed, the main vein varies from 0.10m to 0.25m wide, with crustiform/ginguro to sheeted quartz veining. The vein exhibits intense FeO oxidation and clay alteration, with 5-10% pyrite. The main vein trends at 128° and dips at -68° SW. A series of chip samples was taken across a 5.4m zone on the top of the outcrop, perpendicular to the main vein, as well as one 4.0m composite sample collected along the strike of the vein.
A sample taken along the strike of the vein returned 5.5 g/t Au over 4.0 m. Eight chip samples taken across the vein ranged from below detection limit to 1.88 g/t Au over 0.3 m.
In 2021, three diamond drillholes were completed for 605 m. DL21-011 intersected 1.08m averaging 1.90 g/t Au in a quartz vein.
METALLOGENIC SETTING
Location

The Stony Lake Property is located within the Cape Ray/Valentine Lake structural trend in Central Newfoundland, along the prolific Dog Bay Line.

Deposit Models:

Widespread low grade (0.5 to 4.0 g/t Au) mineralized pyritic sandstone. Quartz veins and quartz stockwork as seen exposed in the Silurian-age Botwood Group sediments; and
A high-grade gold environment (similar to Sokoman's Moosehead and New Found Gold's Queensway discoveries) in the basement rocks (Lawrenceton volcanics) below the Botwood sediments.

Geology:

Located in the interpreted Cape Ray – Valentine Lake ("CRVL") structural trend
CRVL covered by oxidized Silurian sedimentary rocks.
GEOPHYSICAL SURVEY
The 2019 airborne magnetic and 2020 VTEM surveys and subsequent interpretation clearly show that the structural trend of Sokoman's Moosehead discovery crosses onto the Stony Lake property. This appears to be a primary basement structure, with multiple splays off it. Further 3D inversions have defined numerous high priority exploration targets.

With the addition of the 2021 DCIP Survey, the interpretations indicate that concentration of zones of gold mineralization discovered in the Botwood sediments is along a NNE structural trend in association with inferred inflection zones. Drilling at 2 of these inflection zones, Jumper's and Moonlight, has intersected significant gold mineralization in the underlying volcanics.
2021 3D INVERSION
A 3D inversion of the airborne magnetic data with the IP survey has helped to define subsurface structures and the focus of the maiden drill program.
The NNE-trending anomaly intensifies toward the south of the property, which may represent potential shear structures.
The NE corner of the property contains an anomalous magnetic high, which corresponds to known gold mineralization intersected at Jumper's Pond.